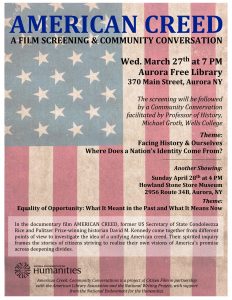 American Creed
A Film Screening and Community Conversation
Sunday, April 28, 2019, at 4 PM at the Howland Stone Store Museum, 2956 Route 34B, Aurora
The Aurora Free Library is hosting a screening of the PBS documentary AMERICAN CREED on Sunday, April 28 at 4 PM at the Howland Stone Store Museum.
In the documentary film AMERICAN CREED, former US Secretary of State Condoleezza Rice and Pulitzer Prize-winning historian David M. Kennedy come together from different points of view to investigate the idea of a unifying American creed. Their spirited inquiry frames the stories of citizens striving to realize their own visions of America's promise across deepening divides.
The screening will be followed by a Community Conversation facilitated by Professor Michael Groth of Wells College on Equality of Opportunity: What it Meant in the Past and What it Means Now.
A final screening and discussion will be held on Thursday, June 27, 2019, at 7 PM at the Interfaith Center for Action & Healing in Lansing. This discussion will be Faith and Our National Identity facilitated by Rev. Barb E. Blom