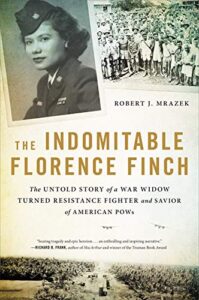 Robert Mrazek, award-winning author of 12 books, is speaking at the Aurora Free Library on Sunday, October 9 at 2 p.m. He will be discussing his book, "The Indomitable Florence Finch: The Untold Story of a War Widow Turned Resistance Fighter and Savior of American POWs." Books will be available for purchase and the author will sign books both purchased at and brought to the program.
"The Indomitable Florence Finch" is a riveting narrative of the World War II Pacific theatre of war and the heroism of Florence Finch, who after her distinguished career lived the last forty years in Ithaca. The book has received 5-star reviews from both the New York Times and the Washington Post as well as many others.
This event is our featured author for our Book Lovers' Ball this year. For questions about the program, email elaine.meyers4@gmail.com
or call the Aurora Free Library at 315-364-8074. The program is free and open to the public.
More About the Author…
Mr. Mrazek graduated from Cornell University, enlisted in the Navy and served five terms in the US Congress. He authored the Amerasian Homecoming Act, which brought nineteen thousand
children of Americans who served in Vietnam to the USA. He also authored the National Film Preservation Act, which established the National Film Registry in the Library of Congress to
protect films of cultural importance. He has earned the American Library Association's top honor for military fiction, the Michael Shaara award for Civil War fiction, and Best Book (American History) from the Washington Post. He has also written and codirected the film
The Congressman
. For additional information, visit
www.robertjmrazek.com
.