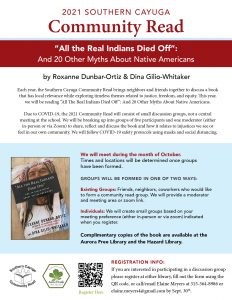 Each year, the Southern Cayuga Community Read brings neighbors and friends together to discuss a book that has local relevance while exploring timeless themes related to justice, freedom, and equity. This year, we will be reading "All The Real Indians Died Off ": And 20 Other Myths About Native Americans.
Due to COVID-19, the 2021 Community Read will consist of small discussion groups, not a central meeting at the school. We will be breaking up into groups to share, reflect and discuss the book and how it relates to injustices we see or feel in our own community.
Complimentary copies of the book are available at the Aurora Free Library and the Hazard Library.
The Aurora Free Library will host a discussion session on Zoom on Monday, October 25 at 7 PM. To join, please email Elaine at elaine.meyers4@gmail.com for the Zoom Link.