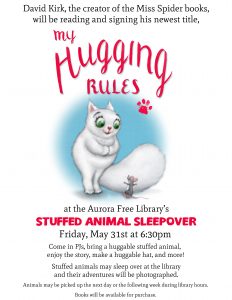 Author Visit & Stuffed Animal Sleepover
Friday, May 31, 6:30 PM
Author David Kirk, the creator of the Miss Spider books, will be reading and signing his newest book, My Hugging Rules, on Friday, May 31st at 6:30 PM as part of our Stuffed Animal Sleepover! Books will be available for purchase.
Come in your PJs, bring a huggable stuffed animal, enjoy the story, make a huggable hat, and more!
Stuffed animals may sleep over at the Library. Their adventures will be photographed! Animals may be picked up the next day or the following week during regular library hours.