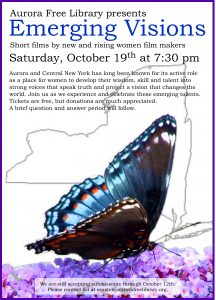 Short Films by new and rising women filmmakers
» Submissions accepted through October 12th! Please contact Ed at eeaster@aurorafreelibrary.org
Saturday, October 19 at 7:30 PM
Aurora and Central New York has long been known for its active role as a place for women to develop their wisdom, skill, and talent into strong voices that speak the truth and project a vision that changes the world.
Join us as we experience and celebrate these emerging talents. Tickets are free, but donations are much appreciated.
A brief question and answer will follow.