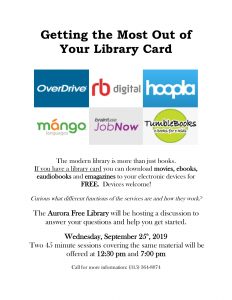 The modern library is more than just books.
If you have a library card you can download movies, ebooks, eaudiobooks and emagazines to your electronic devices for FREE. Devices welcome!
Curious what different functions of the services are and how they work?
The Aurora Free Library will be hosting a discussion to answer your questions and help you get started.
Wednesday, September 25th, 2019
Two 45 minute sessions covering the same material will be offered at 12:30 pm and 7:00 pm
Call for more information: (315) 364-8074