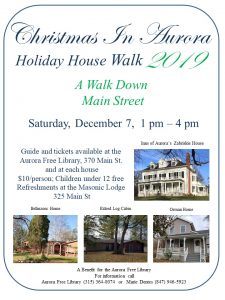 Christmas in Aurora 2019 Holiday House Walk — an annual benefit for the Library!
On tour this year: the Inns of Aurora's Zabriskie House, the Bellinzoni Home, the Eldred Log Cabin, and the Orman Home.
Guide and tickets available at the Aurora Free Library, 370 Main St. and at each house.
$10/person; Children under 12 free
Refreshments at the Masonic Lodge, 325 Main St
For information call the Library (315) 364-8074 or Marie Dentes (847) 946-5923