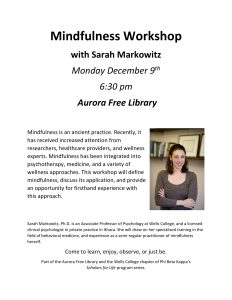 Mindfulness is an ancient practice. Recently, it has received increased attention from researchers, healthcare providers, and wellness experts. Mindfulness has been integrated into psychotherapy, medicine, and a variety of wellness approaches. This workshop will define mindfulness, discuss its application, and provide an opportunity for firsthand experience with this approach.
Come to learn, enjoy, observe, or just be.
Hosted by Sarah Markowitz, Ph.D., an Associate Professor of Psychology at Wells College, and a licensed clinical psychologist in private practice in Ithaca. She will draw on her specialized training in the field of behavioral medicine, and experience as a semi-regular practitioner of mindfulness herself.
Part of the Aurora Free Library and the Wells College chapter of Phi Beta Kappa's Scholars for Life program series.