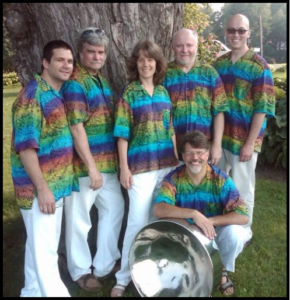 Steel Drum Workshop 5 – 6 pm at the AA House next to the Wells College Golf Course.
Ted Canning will create a steel drum band with workshop participants and lead them through the creation of the steel drum.  Through the story of the Trinidadian steel drum, Ted will show how music grows and changes as it flows between different cultures, following its history from hand drumming, through "Tamboo-Bamboo" bands, and into the modern steel band.  Participants learn how to play hand drums, African bells and shakers, bamboo poles, brake drums, trashcans, and of course Trinidadian steel drums. No registration required, all ages welcome.
Then, at 7 PM,
come enjoy an evening on the AA Field near the Wells College Golf Course enjoying Steel Drum Music on the grass.
Refreshments will be available for purchase in the Club House.
Sponsored by the NYSCA Regrants Program.