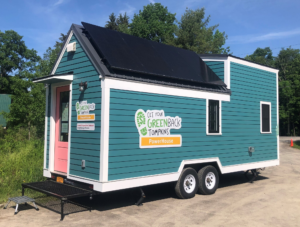 Cornell Cooperative Extension PowerHouse Tiny Home is scheduled to visit on July 19th and 20th.
On July 19th from 2:00-4:00 pm they will offer Hands-On STEAM Activities. There will be an Open House for the community from 5:00-7:00 pm that evening.
Wednesday, July 20th at 9:30 am there will be Tiny Home Storytime. That afternoon there will be PowerHouse Puzzle Room Sessions at 1, 2, and 3 pm. Puzzle Room sessions are designed for 4-6 participants ages 12 and up.
Please register at the Library, by emailing staff@aurorafreelibrary.org, or by calling 315-364-8074.