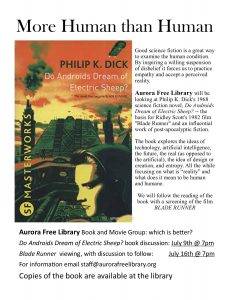 Good science fiction is a great way to examine the human condition. By inspiriting a willing suspension of disbelief it forces us to practice empathy and accept a perceived reality.
We will be looking at Phillip K. Dick's 1968 science fiction novel, Do Androids Dream of Electric Sheep? — the basis for Ridley Scott's 1982 film "Blade Runner" and an influential work of post-apocalyptic fiction.
The book explores the ideas of technology, artificial intelligence, the future, the real (as opposed to the artificial), the idea of design or creation, and entropy. All the while focusing on what is "reality" and what does it mean to be human and humane.
We will follow the reading of the book with a screening of the film BLADE RUNNER.
Do Androids Dream of Electric Sheep? book discussion- July 9th @ 7 pm
Blade Runner viewing, with discussion to follow- July 16th @ 7 pm
For more information, email staff@aurorafreelibrary.org
Copies of the book are available at the library! Please pick one up and read the book before the discussion!