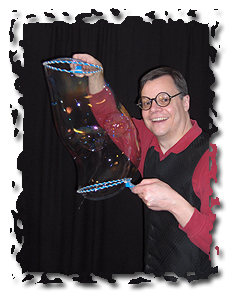 Doug Rougeux The Bubbleman will entertain all on Wednesday, July 6th at 7 pm at the Morgan Opera House above the Aurora Free Library. Come prior to the event at 6:30 pm to kick off summer reading with a Rootbeer Float.
Doug Rougeux is a Syracuse based 30 plus year experienced Teaching Artist, a graduate of Ringling Bros. Clown College, and veteran of two National Circus tours. He uses bubbles of great varying sizes to create "Pop-Art" Sculptures and Bubble Illustrated Storytelling.
This event is partially funded by the NYSCA Community Regrants Program.