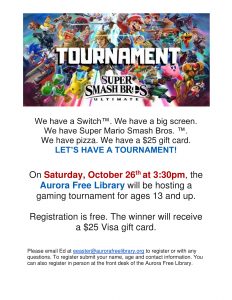 We have a Switch™.
We have a big screen.
We have Super Mario Smash Bros.™.
We have pizza.
We have a $25 gift card.
LET'S HAVE A TOURNAMENT!
On Saturday, October 26th at 3:30 pm, the Aurora Free Library will be hosting a gaming tournament for ages 13 and up.
Registration is free. The winner will receive a $25 Visa gift card.
Please email Ed at eeaster@aurorafreelibrary.org to register or with any questions. To register, submit your name, age and contact information. You can also register in person at the front desk of the Aurora Free Library.