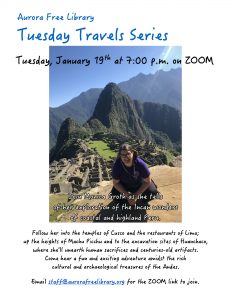 Join Monica Groth as she tells of her exploration of the Incan wonders of coastal and highland Peru.
Follow here into the temples of Cusco and the restaurants of Lima; up the heights of Machu Picchu and to the excavation sites of Huanchaco, where she'll unearth human sacrifices and centuries-old artifacts. Come hear a fun and exciting adventure amidst the rich cultural and archaeological treasures of the Andes.
Email staff@aurorafreelibrary.org for the ZOOM link to join.