Summer Reading in Southern Cayuga — "Tails and Tales" June 28-August 28, 2021
Register at the Library when you visit! Read at least 15 minutes for 20 days and head to the library for a FREE ice cream certificate from Cream at the Top or Lake House Creamery!
Reading Logs
Each circle on the reading log represents one day. Color, use stickers, or make check marks in the circles to record your daily reading. Each check will be counted as 15 minutes of reading.
You can just check off that you read that day and we will count it as 15 minutes, or you can put multiple checks if you want to show exactly how long you read. (e.g. 4 check marks = 1 hour).
Everyone in the community, of all ages, is invited to participate! Start recording on June 28th!
After you have read for 20 days, bring your log to either the Aurora Free Library or Hazard Library to get a coupon for FREE ICE CREAM!
Check in with your log at either library by August 28th to let us know how much you have read this summer and gain a prize.
If you attend Emily Howland…Bring this log to school the first week back and give it to your teacher to get a special treat!
Bingo Boards
You only have about 70 days of SUMMER! Make them count!
Use the Bingo Board to guide you to some fun, must-do activities related to animals and reading!
Mark off each square as your complete an activity. 5 in a row makes BINGO! We invite you to share your adventures with us on social media if you'd like.
When you get BINGO, bring your game board to either the Aurora Free Library or Hazard Library to get a prize.
Teens & Adults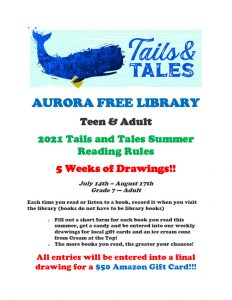 5 Weeks of Drawings!!
July 14 – August 17 for Grade 7 to Adult!
Each time you read or listen to a book, record it when you visit the library (books do not have to be library books)
Fill out a short form for each book you read this summer, get a candy, and be entered into our weekly drawings for local gift cards and an ice cream cone from Cream at the Top!
The more books you read, the greater your chances!
All entries will be entered into a final drawing for a $50 Amazon Gift Card!!!
Summer Reading Activities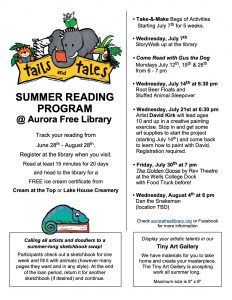 Aurora Free Library-
Take and Make activities and MORE! Be sure to check out the special events below.
Check the Upcoming Events section of the website, our Facebook page, or call 315-364-8074 for details.
Hazard Library-
Tuesdays at 10 AM (July 13-August 17) – Science on the Lawn
Thursdays at 10 AM (July 15-August 12) – Ukulele Camp
Please check www.hazardlibrary.org, our Facebook page, or call 315-364-7975 for details.
Activities at both libraries are free & all are welcome!
Programs made possible, in part, with public funds from NYSCA's Decentralization Program, administered locally by Finger Lakes Community Arts Grants (FLCAG), and the Bernard Carl & Shirley Rosen Library Fund of the Community Foundation of Tompkins County.
Calling All Artists & Doodlers!
Join our summer-long sketchbook swap!
Participants check out a sketchbook for one week and fill it with animals (however many pages they want and in any style). At the end of the week, return it and take another sketchbook (if desired) and continue!
Also…Display your artistic talents in our Tiny Art Gallery! We have materials for you to take home and create your masterpiece. The Tiny Art Gallery is accepting work all summer long. Maximum size is 8″ x 8″/