Summer Reading in Southern Cayuga — "Ocean of Possibilities" Summer 2022
Reading Logs
Each shape on the reading log represents one day. Color, use stickers, or in some way mark the shapes to record your daily reading. Start recording!
After you have read for 20 days, bring your log to either the Aurora Free Library or Hazard Library to get a coupon for FREE ICE CREAM at Cream at the Top. You may turn in your log with whatever amount you read to one of the libraries or to your SCCS teacher for a special prize!
All books count! This includes library books, personal books, e-books, and audiobooks!
Adopt a Stuffed Reading Buddy to read with! Stop in the Library to take home your buddy starting June 27th!
Teen & Adult Summer Reading Fun
July 11th – August 13th, Grade 7 to Adult
5 Weeks of Drawings!!
Each time you read or listen to a book, record it when you visit the library (books do not have to be library books), get a treat, and be entered into our weekly drawings for local gift cards and an ice cream cone from Cream at the Top!
The more books you reach, the greater your chances!
All entries will be entered into a final drawing for a $50 Amazon Gift Card!!!
Tween Book Club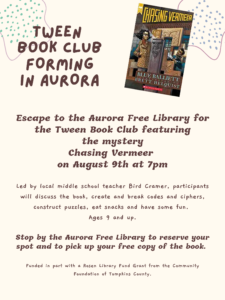 Spaces left for August Tween Book Club! Email staff@aurorafreelibrary.org or stop by for a copy of the book!
Escape to the Library for Tween Book Club featuring back-to-back mysteries: Escape from Mr. Lemoncello's Library on July 12th and Chasing Vermeer on August 9th!
Led by local middle school teacher Bird Cramer, participants will discuss the book, create and break codes and ciphers, construct puzzles, eat snacks and have some fun. Come for one session or both at 7 PM. Ages 9 and up.
Stop by the Aurora Free Library to reserve your spot and to pick up your free copy of the book.
Funded in part with a Rosen Library Fund Grant from the Community Foundation of Tompkins County.
Other Summer Fun
Summer Reading Programs, Take and Make Bags, Ice Cream Raffles, Drop-In Activities & more are also being planned.
Storytime will meet through July on Wednesday mornings at 9:30 am.
We offer NYS Park Passes for checkout, and will soon have Sciencenter and Museum of the Earth/Cayuga Nature Center Passes as well. Puzzles, games, and video games are also available for checkout.
The library accepts non-perishable food items for King Ferry Food Pantry.
Other Information
A special thank you to the sponsors that make this year's Summer Reading program possible!
The Rosen Library Fund
Cream at the Top
Statewide Community Regrants
Save these Important Dates!
Route 90 Book Sale » Last Weekend of July
Book Lovers' Ball » October 7th at the Inns of Aurora