As the Board of Trustees for the Aurora Free Library, we have the responsibility to ensure our building remains viable for future generations of library and theater users. To this end, we believe that over the next 10 years, a coordinated effort must be focused on raising funds and executing the work needed to stabilize the exterior envelope of our 1899 building. (7/20/2023)
Summer 2023 — Roofing Project
SCOPE OF WORK
Hale Roofing will reconstruct roof tile construction on the north and south faces of the western gable by;
removing existing roof tile from the roof edge to the valleys on both sides of the ridge,
removing all existing wood purlins, installing a new moisture barrier, and installing new wood purlins,
putting the roof tile that was removed back in place or,
replacing any tiles that are currently damaged or that were damaged in removal with matching new tiles,
painting wood that is visible and will either be reused or replaced to match
existing materials, color, and profile.
Hale will also clear gutters and downspouts around the entire building.
The Hale Roofing subcontractor will remove the existing wood roof edge and replace it with a painted quarter-sawn white-oak roof edge to match existing color and profile. They will oil prime the  new white oak. Existing wood indicated to be painted will be painted to match the existing wood color.
FUNDING
State of New York Library Construction Grant: $33,610
Aurora Free Library Funds: $34,390
Total: $68,000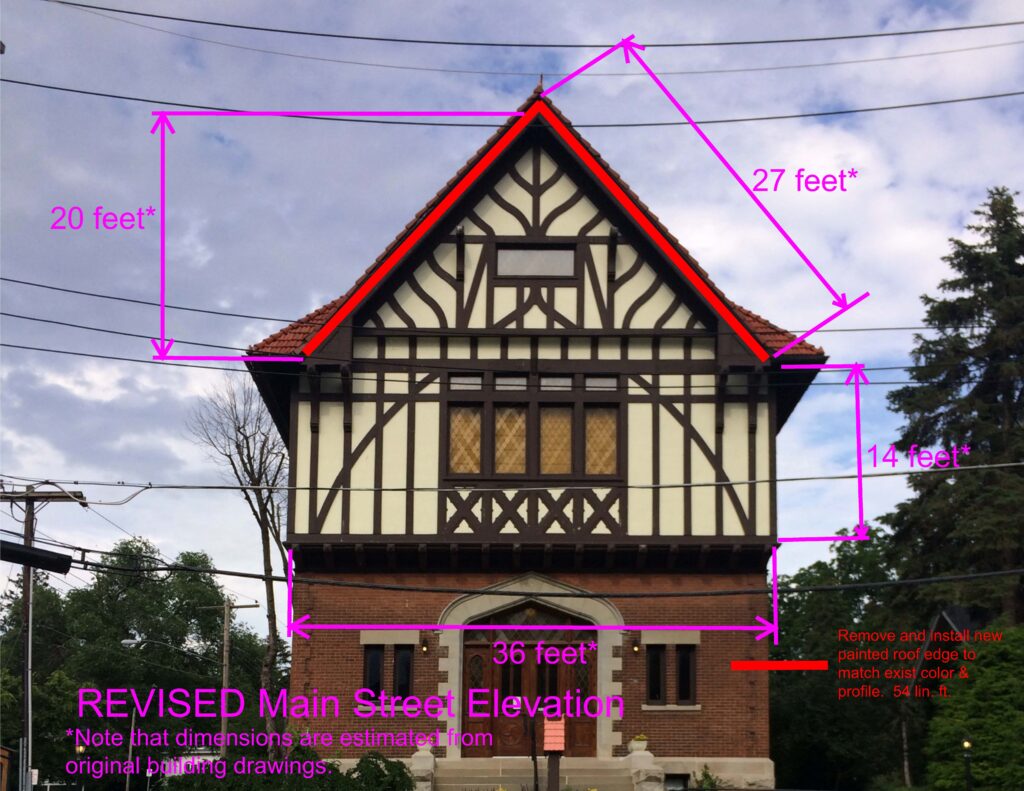 PROJECT PHOTOS
» Pre Project Photos, June 20, 2023
» Progress Photos, June 27, 2023
» Progress Photos, July 6, 2023
» Progress Photos, July 8, 2023
» Progress Photos, July 11, 2023
» Progress Photos, July 19, 2023
» Progress Photos, July 28, 2023
» Progress Photos, July 31, 2023
» Progress Photos, August 4, 2023
» Progress Photos, August 15-17, 2023